A Norwegian industrial designer, Opsvik questioned the notion that there is just one correct sitting posture. Unlike his peers, Opsvik believed that our body intuitively seeks the ideal sitting position – the next position is always the best – and it's this freedom of movement that defines Opsvik's designs.
The first chair to successfully challenge conventional sitting habits, Variable™ balans® set new standards in chair design and functionality when it came to market in 1979.
Designed by Peter Opsvik, Variable balans inspires movement. It's the iconic kneeling chair.
The seat gently tilts the pelvis forward and encourages a natural, dynamic and upright spine. The muscles in the abdomen and back engage to keep the spine upright and the body balanced, which strengthens core muscles and prevents back and shoulder tension. The angle between the upper and lower body increases, greatly improving circulation as the body moves from an active to a relaxed.
SUSTAINABILITY
In Norway, it's a prerogative to protect nature. Varier is proud to be part of a culture that invests in ethical practices that help turn profits into value for future generations. Today, the majority of our components are made from fully recyclable materials. Varier meets or exceeds all local sustainability regulations. In addition, the production process at Trio Line, Varier's long-standing manufacturing partner, has been optimized through strict implementation of lean and six sigma principles to minimize waste. Feel confident that when you buy Varier products you take part in a journey towards a sustainable future.
Variable balans (1979)
Variable's unique design and functionality makes it an icon that is instantly recognizable. Throughout its 40 years of history, the gentle tilting motion and open angle sitting posture has remained constant. The sophisticated kneeling design provides optimal comfort while gently switching between kneeling and the more traditional posture. The Variable fits in nicely with all interiors, especially accompanied by a desk.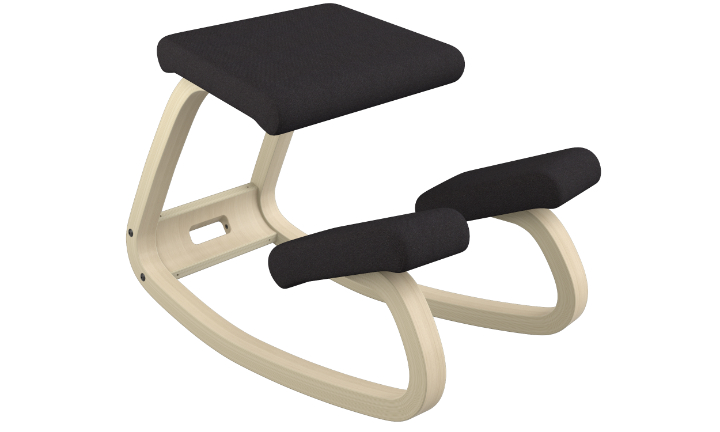 Gravity (1983)
Experience ultimate relaxation and weightlessness with the Gravity. The design classic supports your back and neck while continuously promoting flow and movement in countless positions. Fully reclined, the Gravity elevates your legs above your heart, and rocks gently to the rhythm of your breathing. Leaning forward, it can be used as a kneeling chair. This unique combination makes it the ideal chair for the contemporary home and work environment.
Actulum (1995)
The pendulum movement of the Actulum makes it an all-rounder chair for work, dining, and leisure. Inspired by the comfort of recliners, the designer created a chair for any table or desk that provides optimal flow and relaxation. The wooden runners follow your body's natural movements, while the flexible joint of the backrest lets you lean backward effortlessly. This subtle activity strengthens core muscles and prevents tension in neck and shoulders.